PROGRESSIVE LENSES
What is a progressive lens?
A progressive lens is a lens geometry that allows the correction of presbyopia.
Presbyopia is a natural "ageing" of the eye which appears for all human beings around the age of 40, and which results in a difficulty in reading: close-up vision becomes blurred.
In the presence of another vision defect such as myopia, hyperopia, astigmatism, this optical solution compensates for all these vision defects.
The principle is to achieve on a single lens all the powers necessary for the correction of distance vision to near vision, passing through all the intermediate vision distances.
This is made possible by a gentle and progressive increase in the power of the lens between the top and bottom of the lens: hence the name "progressive lens".
The transition from one vision distance to another is natural, smooth and seamless.
There is a wide choice of progressive lenses, and a range of prices that are sometimes difficult to understand.
In terms of technology, different parameters and degrees of manufacturing expertise make it possible to generate different levels of visual comfort. It is the performance of each of these criteria that makes the difference between one product and another.
At Bema AudiOptic you have a 2-month adaptation guarantee for your progressive lenses.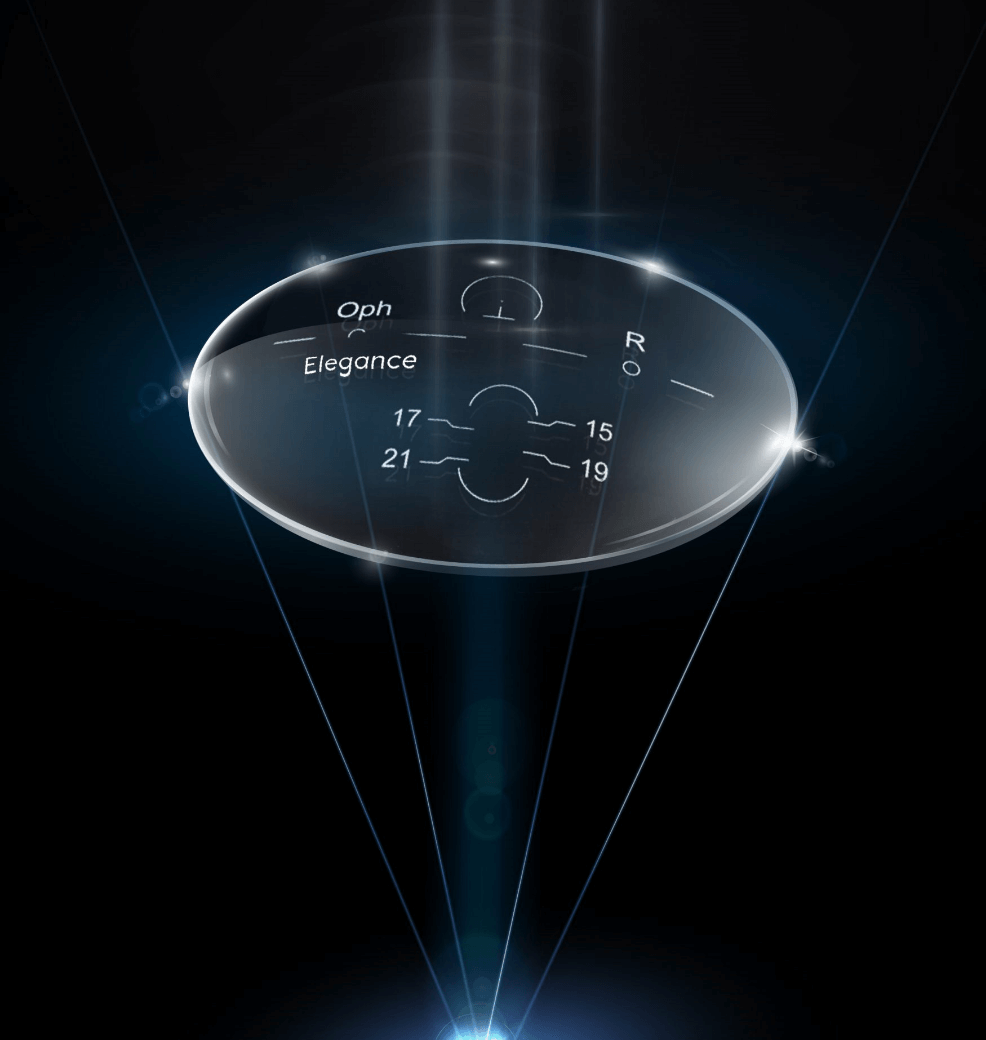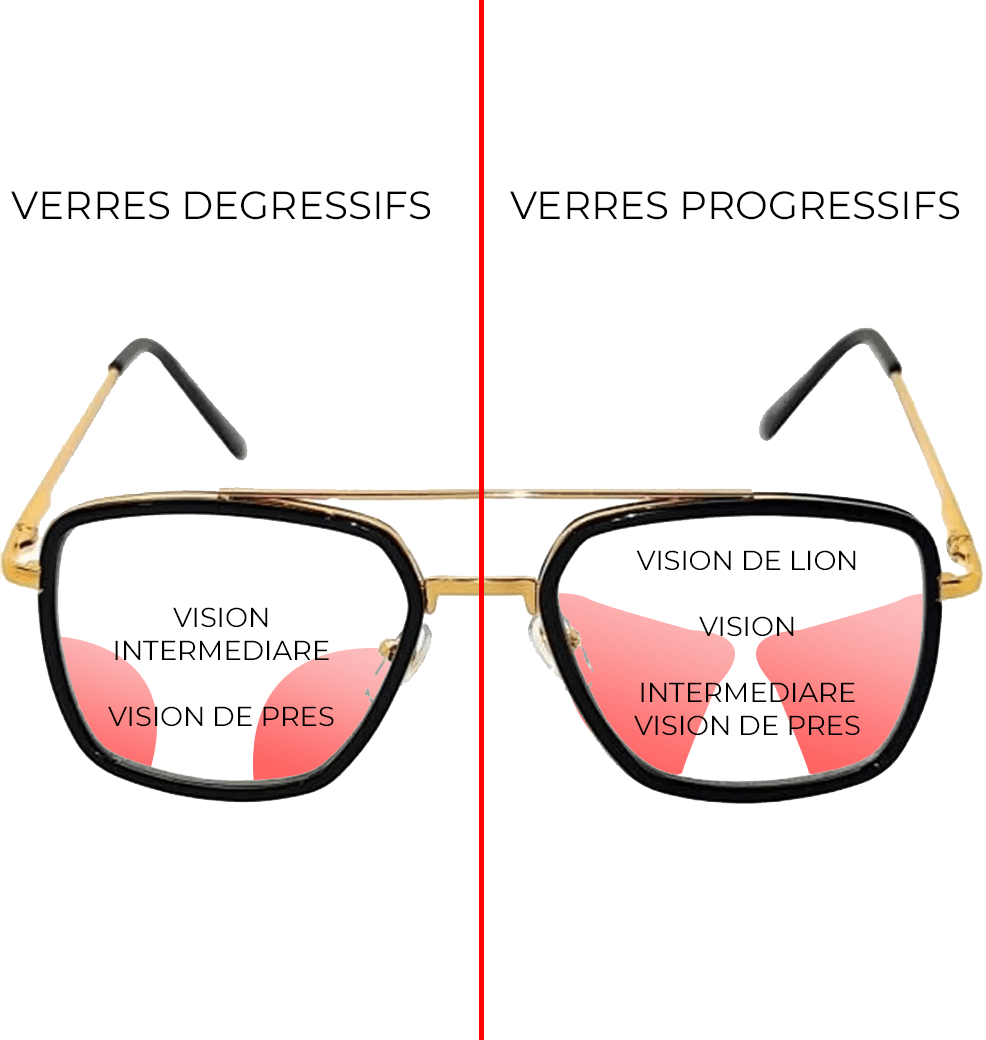 DEGRESSIVE
What is a degressive lens?
This type of lens has the same principle as a progressive lens except that there is no distance vision, this one offers a wider field of vision, which allows you to see both at intermediate and close range. So, with progressive lenses, you can look at your computer screen with good posture and a natural head carriage. Several versions of these lenses are available to give you precise vision depending on your working environment.
At Zeiss, for example, degressive lenses are available with 3 maximum intermediate distances:
The BOOCK: this reading lens offers clear vision up to 100cm.
The NEAR: this optimised reading lens offers clear vision up to 200cm.
The ROOM: this progressive indoor lens offers clear vision up to 400 cm.
At Bema AudiOptic you have a 2-month adaptation guarantee for your progressive lenses.
UNIFOCAL LENSES
What is a unifocal lens?
This lens has a "single focus", hence the term unifocal, the optical system then has a single corrective power. It is used to compensate for the main visual defects such as myopia, astigmatism, hyperopia, or only the near vision of a presbyopic person (or only their distance vision).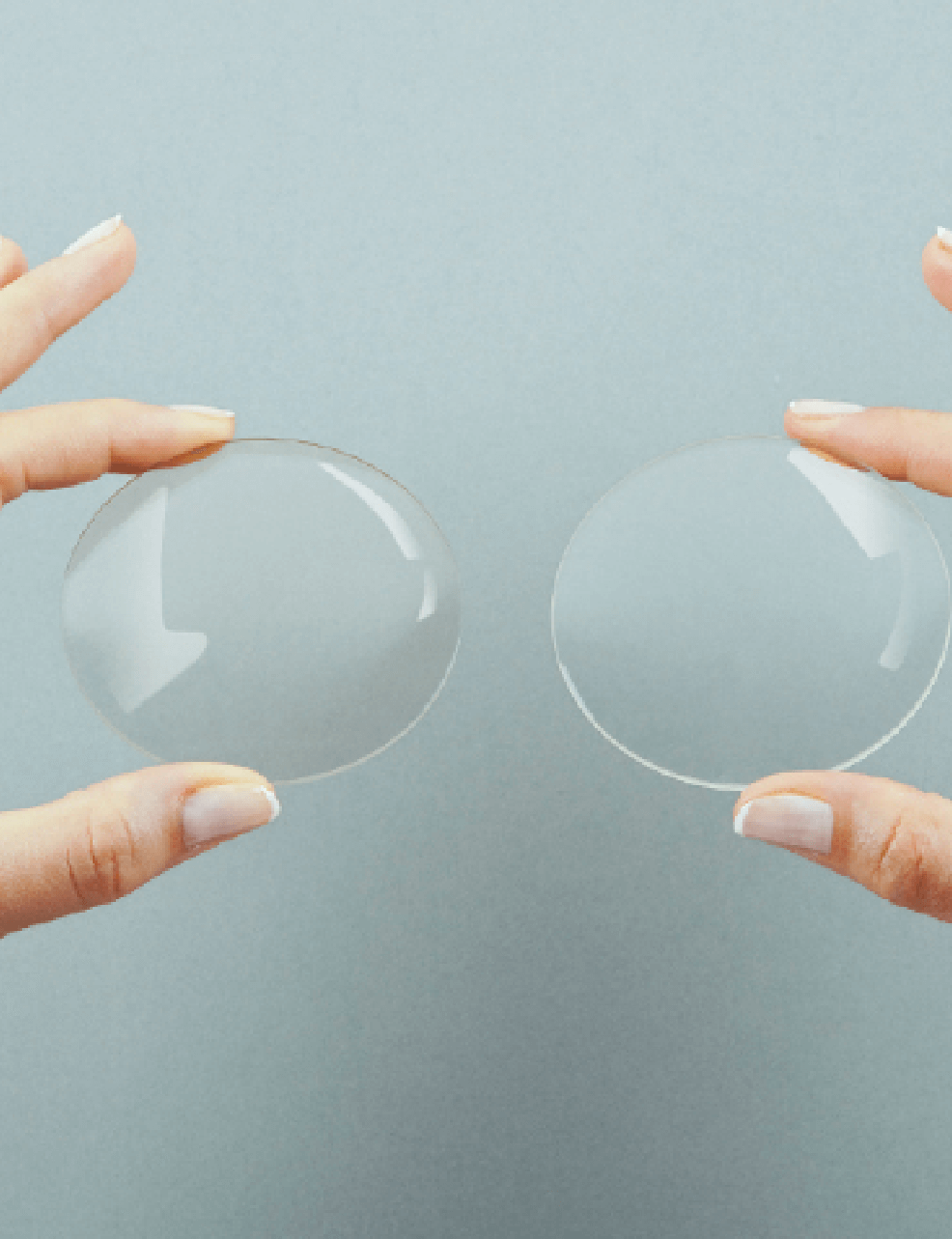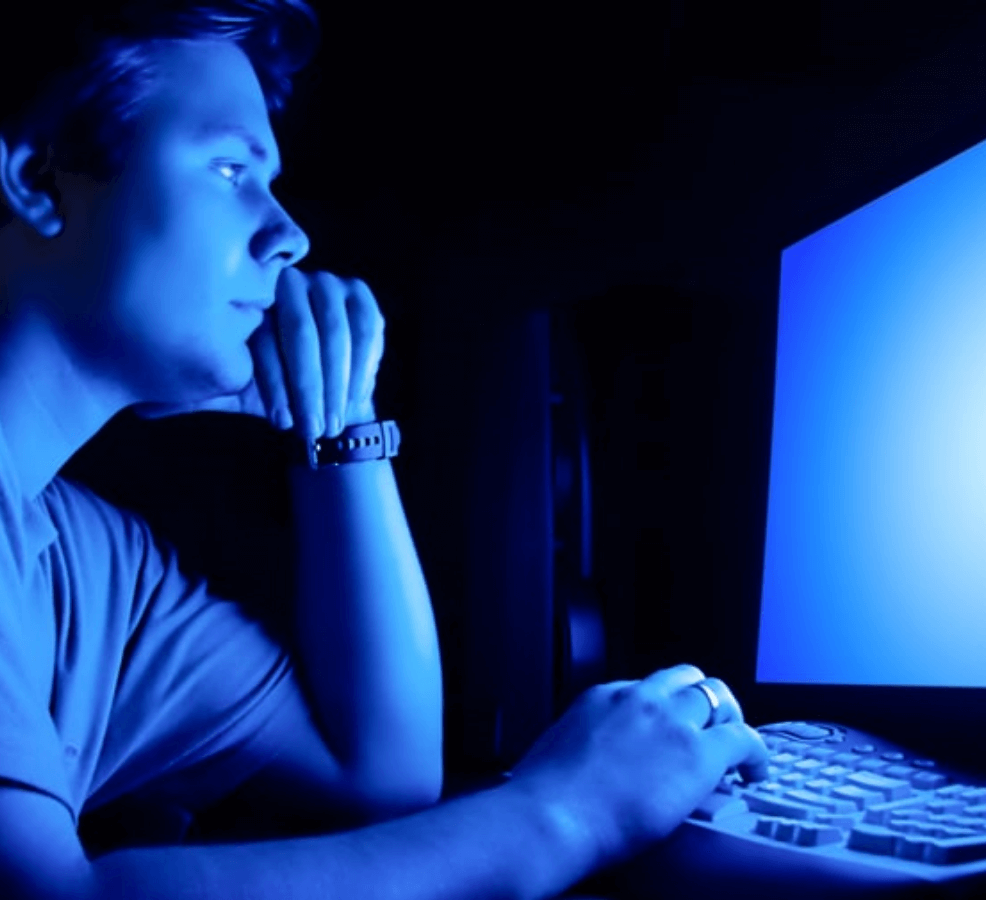 BLUE LIGHT
Advantages and disadvantages:
How much blue light do we need? When and how can we protect ourselves from its harmful effects?
OUR ADVICE :
we recommend that you relieve your eyes by looking away often, even while working on your laptop, tablet or smartphone. Make sure that your eyes are exposed to sufficient light, while ensuring that they are well protected against excessive UV and blue-violet light.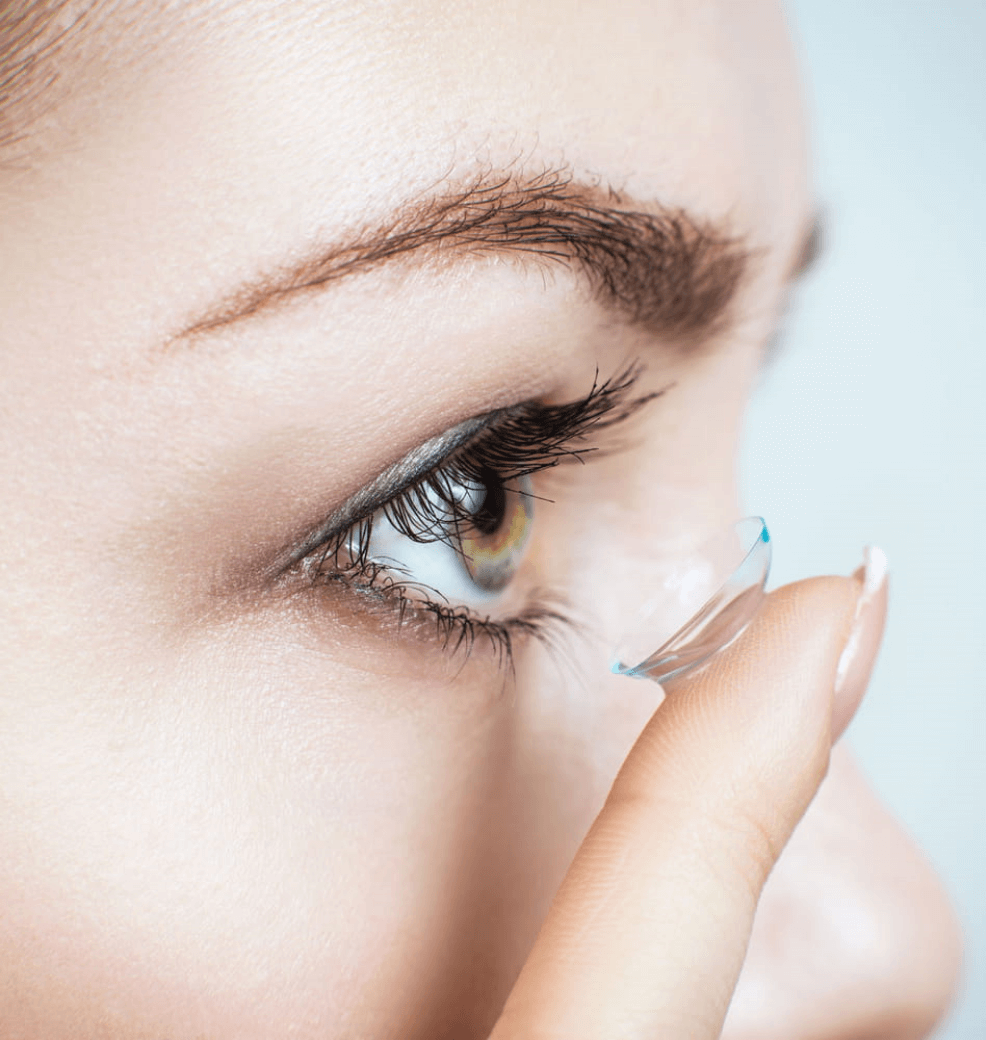 LENSES
Nowadays, there are many types of contact lenses to suit all needs and lifestyles. We will help you choose the lenses that are right for you. We will give you personal advice and we will have the latest technology available in our shop.
Find out more about the different types of contact lenses we offer:
These particularly soft disposable lenses are worn only once and are therefore ideal for temporary use, such as when playing sports.
These lenses also offer an optimal level of hygiene. They do not need to be cleaned or disinfected, and you do not need to care for them or store them.
We represent all brands of daily lenses.
Monthly lenses can be used for up to four weeks and, due to their high oxygen permeability, some of these lenses can be worn continuously for 24 hours.
This means clear vision every morning as soon as you open your eyes.
Other benefits for you:
Because of the short time these lenses are worn, it is almost impossible for them to get dirty and they retain their flexibility as your visual ability changes.
We represent all brands of monthly lenses.
Do you want to change your look? Have you thought about coloured lenses? For everyday wear or simply for an evening out, they are a real fashion accessory to enhance the look or radically change the colour of your eyes. Coloured lenses are accessible to everyone as they exist with or without correction. They can be used by anyone who wants to change the colour of their eyes or intensify their look.
Coloured lenses blend into your eyes so that the result is almost imperceptible to the naked eye. The resultant colour will be unique, as is the colour of your eyes. This is why, if you buy exactly the same lenses as someone you know, the result will not necessarily be the same on them as on you.
FRAME
The frame is a determining element in the chain of your equipment, that is why we work with several suppliers in order to have a large choice of models representing big brands on the market at all prices which will satisfy all styles.
Our brands: RAY BAN, ESPRIT, CARRERA, VOGUE, EMPORIO ARMANI, DOLCE GABANA, KINTO, RALPH LAUREN, VERSACE, POLAROID, SILHOUETTE, CHARMANT, BOSS ORANGE, TOMMY HILFIGER, CAZAL, ZENKA AND MANY MORE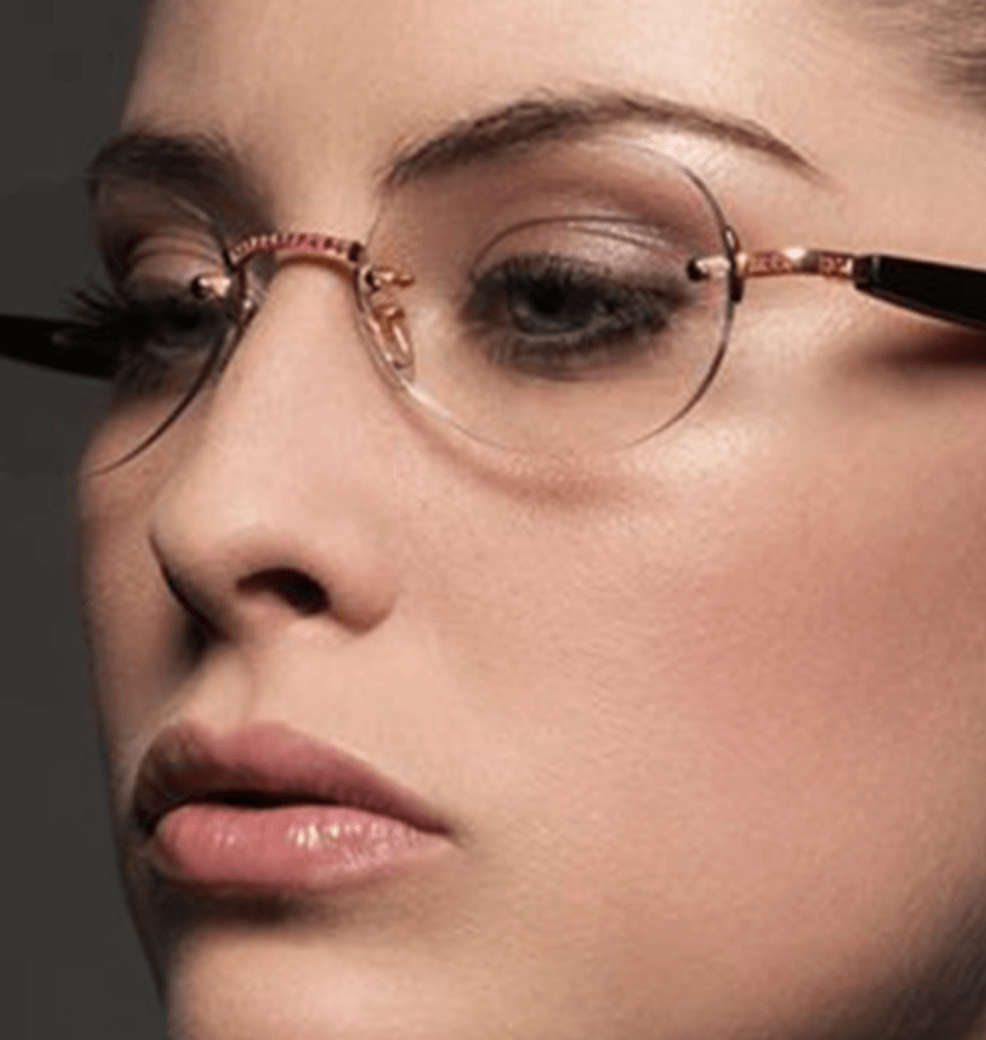 EYE EXAMINATION
The purpose of an eye examination is to check your general state of vision, measure changes in your eyesight and develop a plan to improve and maintain your vision. An eye exam should always be performed by a licensed optometrist or ophthalmologist. Your examination will take between 20 and 40 minutes. This time allows for all the tests to be carried out, any questions you may have about the results to be answered and a specific treatment plan to be developed for your visual needs.
We will provide personalised vision advice with knowledge of your personal situation and eye health, to provide you with a tailor-made solution.

EYEWEAR MAINTENANCE
This maintenance is completely free of charge for the pleasure of your eyes.
We start with an ultrasonic cleaning of your glasses.
Followed by a tightening of the screws which will allow the temples to be well in place.
Changing the nose pads for a new look.
Cleaning of your glasses.
We finalize the whole process by symmetrizing your frame so that it is straight on your face.

ADAPTATION OF LENSES
If you have never worn contact lenses before and you would like to wear them, we will be happy to offer you our trial pack. Following your visual needs, we will advise you on which lenses are best suited to your eyes and your vision. You will be able to benefit from trial lenses for your first experience as well as our expert advice on lens fitting and care.
CONTACT US
Do not hesitate to contact us on +32 2 267 04 48 for any additional
information or to make an appointment.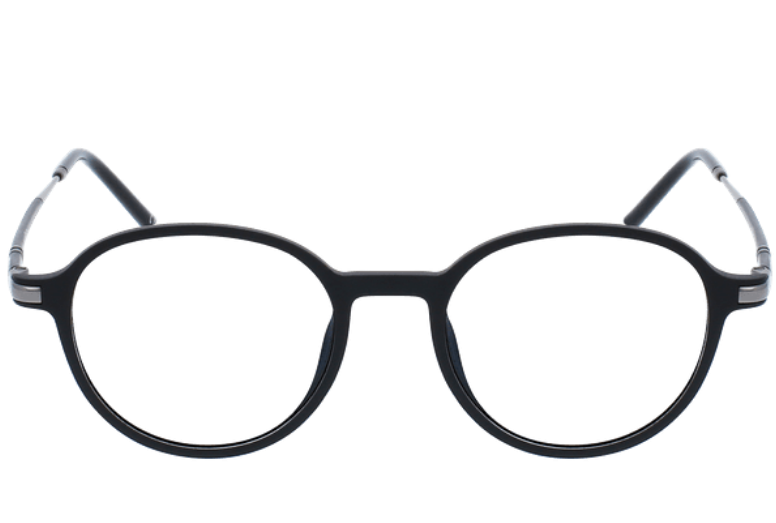 OPENING HOURS
Monday to Saturday
09:30 AM – 12:30 PM
01:30 PM – 6:30 PM
Sunday: Closed